Alan Weiner
President
+1 212 244 2800
Alan joined EverGreene in 2007 as Chief Operating Officer. Since March of 2017 he serves as President. With over twenty-five years professional experience as a Principal and COO for successful music industry firms and non-profit agencies, Mr. Weiner has effectively guided EverGreene's daily operations in the studio and in the field.
Alan ensures that contracts, billing, insurances, personnel, safety protocols and related systems are organized and running smoothly. His responsibilities include overseeing finances, logistics, union relations, information technology and human resources for a work force averaging 175 (studio and field) for up to 75 concurrent projects.
Alan holds a Bachelor of Arts degree from the University of Massachusetts in Business Administration. Away from EverGreene, Mr. Weiner is an avid cyclist, skier and sailor.
Awards
EverGreene Architectural Arts, Inc.

2018 Industry Impact Award

Anchin, Block & Anchin LLP
Projects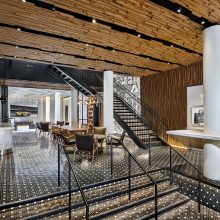 Lexus Intersect