The Massachusetts International Festival of the Arts (MIFA) Victory Theatre offers a sneak preview of the historic 1942 Works Progress Administration (WPA) Victory Theatre mural at Holyoke's Wistariahurst Museum on Thursday, March 9, 2023, at 1:00 PM. For the first time since being removed from the theater in 2010, a restored section of the Vincent Maragliotti WPA mural will be on display thanks to restorers, EverGreene Architectural Arts. The mural section will be on view in a year-long exhibition as part of MIFA's contribution to Holyoke's 150th Anniversary Celebration. In addition to the mural section, the exhibition includes information on Maragliotti, the restoration process, and the WPA.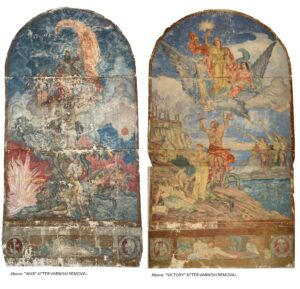 Maragliotti (1888-1978), noted Italian New York artist of Maragliotti Studios, Grand Central Terminal Building, was hired to supervise the decorative treatment of the Victory Theatre's interior after a January 26, 1942 fire. The two murals he painted are an integral historical part of the proscenium and the Victory's stage surround. The mural lunette, which will be on display at
Wistariahurst, Maragliotti is described as:
The left panel, "Victory. Man has broken his bonds and has been made free by the spirit of justice. Lucifer is banished into oblivion. Peace has brought her blessings and Liberty once more reigns. The blessings of Liberty, Peace and Justice are again bestowed upon humanity." – Holyoke Transcript-Telegram, Aug. 13, 1942
The right panel, "Depicts War and was inspired by the biblical story of Lucifer, cast out of heaven, venting his vengeance and evil upon mankind. It suggests that the horrible turmoil of the present-day throughout the world marks the approach of the climax, which can result only in either complete victory or complete defeat." – Holyoke Transcript-Telegram, Aug. 13, 1942
The two murals were transported to EverGreene's Brooklyn Studio for mold remediation, facing removal, and initial paint stabilization. Each mural was carefully cleaned and the aged varnish removed to reveal imagery and the original color schemes. The final stage of the treatment program is selective inpainting of lost and deteriorated paint.
Read the full press release here >>
See images from the reveal on Thursday, March 9th at Wistariahurst Museum in Holyoke here >>