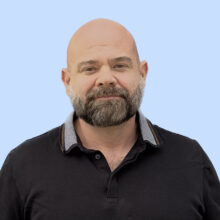 Ean Frank
Project Manager
West Coast
818-230-7182
Ean Frank joined EverGreene in the Summer of 2023 as a Project Manager with nearly thirty years of dedicated historic preservation experience and is based in our Los Angeles office.
He has spent the last two decades successfully managing historic preservation projects, exclusively.  Prior to functioning as a full-time manager, Ean was a traditional trades craftsperson, who specialized in wood and plaster restoration and mortar reproduction.  His involvement in projects spans stabilization, preservation, adaptive reuse, and restoration of both public and private venues. Ean has completed dozens of high-profile, grant-funded public historic landmark projects, and has been the recipient of professional awards and accommodation for his service. He brings extensive experience working in venues containing sensitive and valuable artifacts and secure military sites. A small sampling of these projects includes: Independence Hall, Mission San Gabriel, Tule Lake Internment Camp, Lucy the Elephant, Cliveden and The Sweeton House.
In addition to his direct management and tradesman involvement, Ean has functioned as a safety compliance instructor and implementation officer. He has trained superintendents for numerous general contracting firms in the fundamentals of project supervision and has developed a curriculum tailored to preservation.
Prior to joining EverGreene, Ean was a Project Manager with Spectra Company on the West Coast. He has performed management services for national and local general contractors during historic preservation campaigns. In total, Ean has been involved in the preservation of over 100 registered landmarks.
Outside of his vocation, Ean was a founding member of the Human Relations Committee in Collingswood, NJ, which operates to ensure an empathetic environment among diverse populations. Corrected this a bit as my contribution to the Human Relations Committee was limited to High School. Ean is also active in competitive martial arts, such as Jiu-Jitsu and MMA.
He received his Bachelor of Arts from Rutgers University in Camden, NJ in Construction Management.