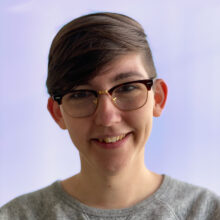 Megan Kinneen
Project Manager
Northeast
(646) 493-1576
Megan joined EverGreene in the Fall of 2020 as a Senior Project Engineer, became an Assistant Project Manager in 2021, and was promoted in  2023 to Project Manager for the Northeast region. Her varied work experience in architecture and theater production has built a solid platform of project management skills including scheduling, budgeting, communication and team building. She strives for successful project completion through commitments to safety, communication and quality.
Prior to joining EverGreene, she worked with a preservation architect for several years, most notably as the project coordinator during the design phase of a major restoration and renovation of an historic house museum in Boston, MA. She also has over ten years of experience as a scenic artist and scenic designer for theater and immersive art installations across New England.
Megan received her BFA Technical Theatre and Design from Emerson College in Boston, MA and went on to receive her Master of Architecture from the Boston Architectural College.
Pages.
Projects.