Authored by Abigail Hembree, Marketing Intern at EverGreene and a Northeastern University undergrad studying journalism and photography
I chose to attend Northeastern University because they champion experiential education. Their robust co-op program has given me the opportunity to intern with EverGreene Architectural Arts' marketing team this semester.  As I research and write about EverGreene's extensive work at libraries, I value learning about the power of the built environment to shape how and why we study.  After learning about EverGreene's award-winning restoration of the Enoch Pratt Free Library in Baltimore, I was inspired to reflect on the influence of beauty and harmony on my approach to education.  Although I can't visit New York City's magnificent libraries due to temporary closures, I am eager to engage with teammates who have revitalized libraries and historic buildings over the past 40 years.

Restoration of Enoch Pratt Free Library
It wasn't until months of quarantine that I realized the significant role of libraries in my education. With the onset of the COVID-19 pandemic, my small apartment on Northeastern University's Boston campus suddenly functioned as a lecture hall and library. I restlessly rotated from my desk to the kitchen table to the couch, hoping that a minor change in scenery would revive creativity and motivation that quarantine had stifled. Even more difficult than the lack of variation in my environment, though, was the lack of a shared sense of purpose that educational institutions provide. 
Pre-pandemic, I often took the train on Saturday mornings to the Boston Public Library despite the university library's convenience. I intentionally visited the BPL because the environment engaged my intellect in a way that the fluorescent-lit, white-walled structure on campus didn't. Described by the National Park Service as "the first outstanding example of Renaissance Beaux-Arts Classicism in America," the BPL is grand but not gaudy. The space not only enhanced my ability to focus, but watered seeds of curiosity and fascination that I believe to be essential to education. While libraries in their most basic sense are practical spaces that provide tangible resources, perhaps their core purpose is to cultivate a sense of wonder and awe in their visitors.
A distinct energy and excitement flows through the veins of libraries that art and architecture can both invite and reflect. The busts of intellectuals and their quotes lacing the coffered ceiling remind me that my commitment to learning is built from a foundation laid by thinkers before me. These sculptures stir a sense of responsibility to enrich the mind and encourage hungry learners to remember their potential.
Equally as important as the bronze faces of famous authors are the faces of fellow students beside me. Each likely chose this library over their universities' (unless they go to Harvard) because they too value the impact of beauty on the mind. The wooden desks' fading stain prompts me to ponder the countless individuals who have studied here over the decades. How many hands clutched pencils, turned pages, and typed papers in these chairs? And how may will follow me? The smallest details suggest that expanding my intellect is not a stagnant, individual endeavor, but an active engagement in an ever-expanding web of ideas and minds.
The BPL, like many comparable libraries, proposes that education is not a mere transaction with a book or instructor. Rather, it is a rich relationship to the natural and constructed world around us, including all knowledge that precedes and follows us. The beauty of historic libraries suggests that education is to engage with something beyond ourselves, to stretch towards the new. It is no mistake that in the ceiling of the Rose Main Reading Room in the 109-year-old New York Public Library there is a mural of celestial clouds.
Magnificent gold light emanates from the vast painting, evoking a sense of the eternal and inviting contemplation, which EverGreene's creative director Bill Mensching intended in the restoration of this 1911 mural. "What we tried to do is create this timeless sky… to get lost in and to contemplate under," he said. Creating, solving, pursuing new ideas and pondering ancient ones are all signs of an intellect grounded in something enduring, while reaching towards eternity. What better way to signify this than the heavens.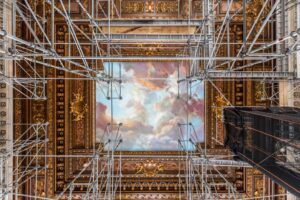 It is not merely the architectural arts and murals that I value in historic libraries, but the activities these spaces instinctively inspire — professors wrestling with projects, students poring over books and computer screens, tourists ambling through the decorative halls, even children cartwheeling in the courtyard. I impatiently wait for these places not merely to reopen, but for their vibrancy to be restored, with students elbow-to-elbow and necks craned to the ceiling.