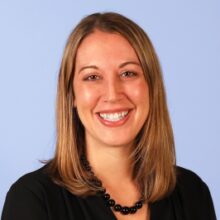 Katherine DeMercurio
Director of Marketing
+1 646 493 1327
Katherine joined EverGreene in the Fall of 2017. With a passion for improving the built environment and design thinking, Katherine has spent a majority of her career in the A/E/C industry. Her dedication to finding creative solutions and extensive experience in marketing strategy enabled Katherine to take a leading role in communications at EverGreene. Integral to public relations, corporate communications and brand management for the firm, Katherine works to drive transformation through best practices while innovating new concepts and procedures to build awareness, support business opportunities and further connect EverGreene with industry partners.
Katherine currently serves as Chapter Champion on the Board of Directors and on the Chapter Advisory Council for Society for Marketing Professional Services (SMPS) New York Chapter and was recently selected as SMPS 2021 Chapter President of the Year.  She has previously served as Chair of the Foundation Committee for Commercial Real Estate Women of New York (CREW NY) and the NYC Chapter of Project Color Corps. She earned recognition as one of Sokol Media's 2017 Pioneering Women in Real Estate in NYC, SMPS NY's Humanitarian of the Year, and Connect Media's 2nd annual Women in Real Estate Awards program as a New York winner in 2018, and as an Outstanding Woman in Construction by the Women Builders Council (WBC) in 2019 and 2021.
Katherine earned her Bachelor of Arts degree in English Literature at Northeastern University in Boston, MA and holds a Certificate in Digital Graphic Design from the New England Institute of Art.