Tour US Historic Train Stations This Summer
"The station was a gateway to transport. It was a jumping-off point and the place of arrival. It was an emotional focal point, where many people saw a city for the first time or hugged a loved one before they traveled afar or upon arrival after years away." Brian Solomon, author of Railway Depots, Stations, and Terminals
Summer vacations with travel this year? Yes, please! We know how excited everyone is feeling as life slowly returns to a faster pace and folks can visit with friends and family after a long year of living in a quarantined world. Join EverGreene on a train ride adventure across the United States! Our tour departs from the West Coast traveling to the East Coast over the course of June through August 2021.
EverGreene's team has worked on many of America's historic passenger train stations over the years. Our work preserving train stations began in 1995 and continues to present day. We have provided a variety of services for these selected stations that includes: mosaics, murals, mockups & maquettes, mortar analysis & petrography, metal conservation, plaster fabrication, decorative painting & finishes, stenciling & lettering, scagliola, etc.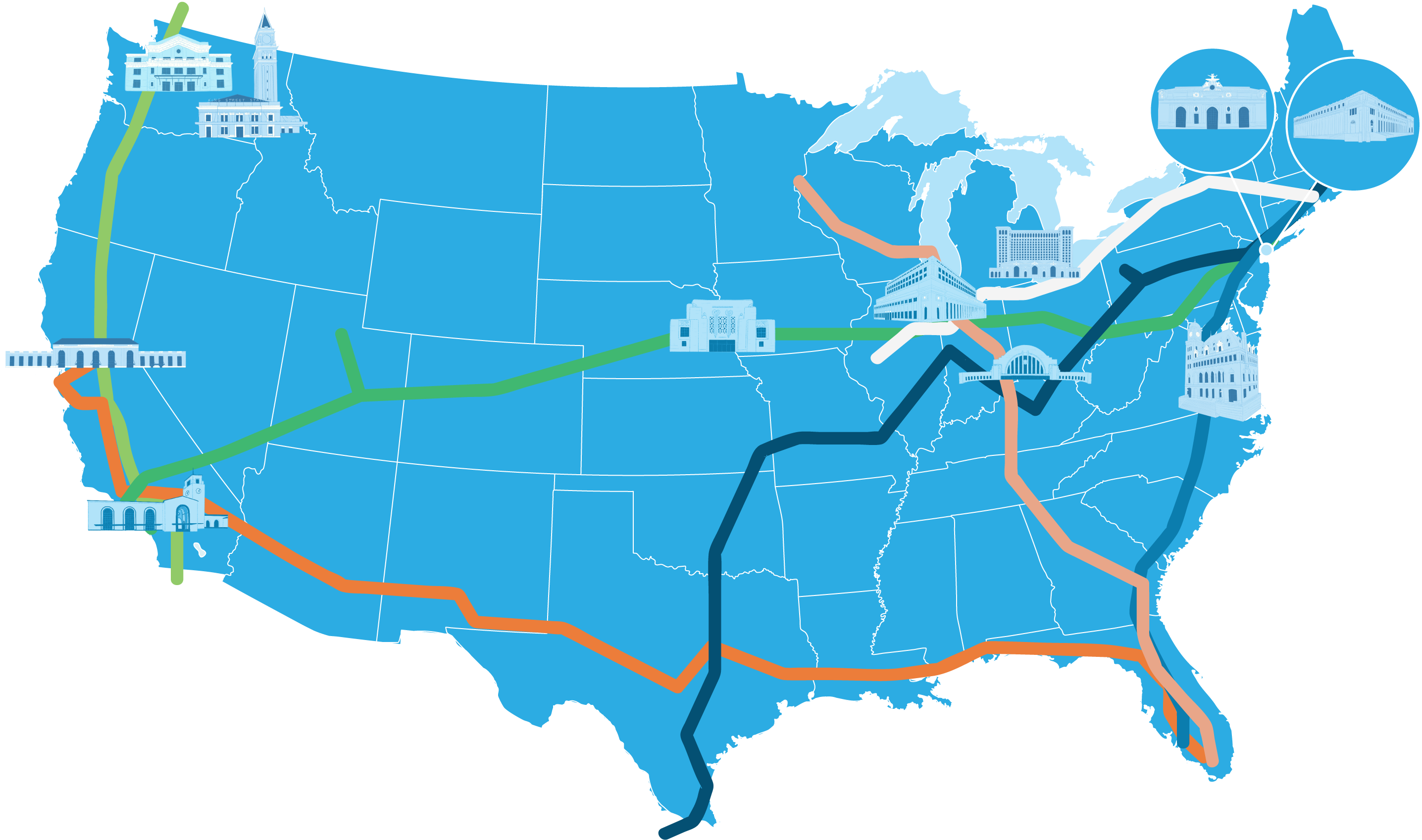 Farley Post Office/Moynihan Station
FUN FACTS
Often stations were named Union Station, as an indication of the different lines met up. We feature five (5) of them on our travels!
Seven (7) stations are designed in beaux-arts architecture style, which heavily influenced the architecture of the United States in the period from 1880 to 1920.
Five (5) of the projects featured are award-winning stations
Ten (10) of the eleven stations featured are on the National Register of Historic Places,

and four of those are further designated as National

Historic Landmarks

, reinforcing the importance of preserving these historic structures for generations to come.

Five (5) featured are adaptive reuse projects; now functioning as museums, theatres, offices, and even a cocktail bar!