Home is where the heart is, and for me, I quite literally mean it, as I come from the Heartland of the country: Omaha, Nebraska. Growing up, I was drawn to the idea of getting out of the Midwest and never returning. When I graduated high school, I happily announced that I would be going to Boston, Massachusetts to obtain my college education. This cross-country move is typically uncommon amongst my inner circle, and I was told that I would end up returning to Omaha once I experienced the big cities and started to miss the good old 'Nebraska Nice'.
I went off to Northeastern University, and as part of my experiential learning program, I began my Co-op at EverGreene in Brooklyn, New York as a Marketing and Media Intern.  During my six-month internship, I learned quickly that there really is no escaping your roots. From the moment I stepped into the New York office and began learning about the many projects EverGreene has completed throughout the country and internationally, I found more than I expected were right in my childhood backyard.
First, the remainder of a trip ventured to the state capitol in Lincoln in grade school where the class learned about the Art Deco murals came to me as I researched presentation imagery for Behind the Scenes Look at Art Deco Restoration, a discussion led by EverGreene's Executive Chairman and Founder, Jeff Greene, hosted by the Art Deco Society of New York.  Another resurfaced grade school memory included the academic decathlon competitions at St. Vincent de Paul, where EverGreene is now installing a mural of the Last Supper. After documenting the project daily and interviewing the Artist, Zinni Veshi, and the Design Team on the project, I could now win a few rounds of trivia on the subject!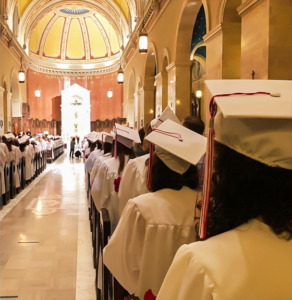 In high school gym class, we would run around the neighborhood, and my favorite path was the one that circled the Joslyn Castle, a Beaux-Arts mansion in the Gold Coast Historic District of Omaha. I soon became aware that EverGreene had a hand in the restoration as well!  A most treasured memory is from walking in my very traditional high school graduation ceremony adorned in all white with a dozen red roses from my school to the Cathedral of St. Cecilia's, which EverGreene conserved. At the time I was too caught up in the process of graduating to notice the beautiful liturgical artistry and decoration that surrounded me, but when I returned home for my younger sister's graduation this Spring, I was awestruck. The beauty of the Cathedral brought another layer of depth to the ceremony and helped me connect that part of my past with my present.
Even from across the country, I've been able to foster new connections in Omaha.  I visited the Durham Museum, previously Omaha Union Station, (also highlighted in our Train Across America Campaign). I met up with Project Manager, Kim Henze, who is overseeing the restoration project, as well as Dawn Myron, the Marketing and Design Manager, who I have been in contact with throughout my internship. Delighted to have familiar faces to say hello to the next time I go!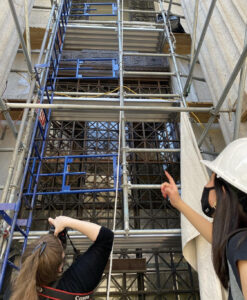 As an artist, I draw inspiration from my surroundings and seek to develop my style through new experiences and perspectives. The success of my last six months in New York at EverGreene has given me both a newfound appreciation for my home and encouragement to continue exploring and living all around the world. I cannot be more thankful to my coworkers and friends that helped me realize the beauty of architectural arts can impact you, wherever you are.
While this internship has taken me far away from home, it has equally brought me closer to it than I ever could have imagined and helped me visualize more of what I would like my future to be.
Authored by Elizabeth Doyle, 2021 Marketing Intern at EverGreene and a Northeastern University undergrad studying graphic design and business.