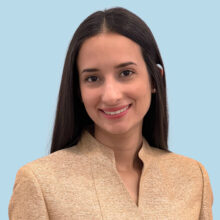 Nilma Muniz
MSc
Assistant Project Manager
Northeast
(646) 493-1283
Nilma joined EverGreene in the Spring of 2021 as Assistant Project Engineer, became a Project Engineer in 2022, and promoted in 2023 to Assistant Project Manager. She is a motivated professional with experience in management, structural engineering, art, and historic preservation and holds strong bilingual communication skills in English and Spanish. In her current role as Project Engineer, she provides field and administrative support to the project teams including project setup, project execution, document management, and closeout procedures.
She is the co-founder of  the  nonprofit organization, ReStructure Heritage, based in Spain. Here she works with a team of volunteers to aid in the restoration of neglected historic buildings while providing a hands-on learning experience in traditional craftsmanship.
Nilma is a graduate of  the University of Puerto Rico at Mayaguez with a BS in Civil Engineering (Cum Laude) and a Minor in Art.  She continued her education at the University of Minho and Polytechnic University of Catalonia, Portugal and Spain, earning a MSc in Structural Analysis of Monuments and Historical Constructions (SAHC.)
Pages.
Projects.