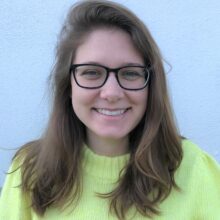 Emma Kousouris
MPS, AIC-PA
Assistant Project Manager
1-301-943-8674
Emma joined EverGreene in May 2016 as a conservator, where she worked closely with senior conservators in all aspects of historic conservation work, including research, condition assessments, conservation treatments, and materials testing and analysis.
In July 2022, Emma moved into an Assistant Project Manager role where she focuses her skills on scheduling, budgeting, communication and team building. She assists with on-site operations, the daily needs of projects, and is deeply committed to the team's safety, communication and quality of work performed.
Prior to joining EverGreene, Emma worked as a preservationist at Bennett Preservation Engineering in Charleston, South Carolina, where she worked closely with an engineer and a conservator. The majority of her work involved on-site documentation, condition assessments, and the creation of construction documents.
Emma holds her BA in Historic Preservation and Art History from the College Charleston in South Carolina before earning a Masters in Preservation Studies from Tulane University, where she interned at Cypress Building Conservation and assisted architectural conservators on the restoration of historic wood windows. She is an active in member in several industry organizations including the American Institute of Conservation (AIC) and the Association of Preservation Technology, Washington DC Chapter.
Awards
United States Capitol Stone Restoration - Design and Construction

2022

District of Columbia Awards for Excellence in Historic Preservation

DC Preservation League

United States Capitol Stone Restoration - Design and Construction

2022

District of Columbia Awards for Excellence in Historic Preservation

DC Preservation League

Carnegie Library

2020

State Historic Preservation Officer's District of Columbia Award for Excellence

DC Preservation League

Carnegie Library

2018

Restoration and Renovation

American Architecture Awards

Carnegie Library

2020

Regional Best - Award of Merit Renovation/Restoration

Engineering News-Record MidAtlantic

Carnegie Library

2019

Washington Contractor Award - Renovation / Restoration, $31-$50 Million

Associated General Contractors of Washington DC

Carnegie Library

2020

CRP Build America Merit Award - Building Renovation $10 – 75 Million

Associated General Contractors of America (AGC)

Carnegie Library

2020

Awards of Excellence - Best Historic Renovation

NAIOP DC | MD

Carnegie Library

2020

Awards of Excellence - Best of Best, Buildings

NAIOP DC | MD

U.S. Capitol Stone and Metal Preservation, North Extension

2018

Award of Merit Government/Public Buildings

Engineering News Record

U.S. Capitol North Extension Stone and Metal Preservation, Washington, DC

2018

Best Project Award

ENR MidAtlantic
MORE AWARDS