When homes, businesses, hotels, or luxury destinations want to achieve the pinnacle of sophistication, Atelier EverGreene is the definitive resource for ideation, conceptualization, and creation of the finest, interior decorative artwork. Scenic florals and panoramic landscapes in soft hues, Chinoiserie, contemporary textures, and luscious abstract patterns—experience the renaissance of handcrafted wallcoverings.
We combine traditional hand drawings, sketches, and mold-making techniques with modern 3D visualization and specialty printing technology to achieve the highest standards of artistic excellence. We focus on our customer's vision, pay meticulous attention to every detail, and execute with the personalized approach of old-world craftsmanship. Our array of diverse styles and themes caters exclusively to the elevated tastes and preferences of the luxury market.
---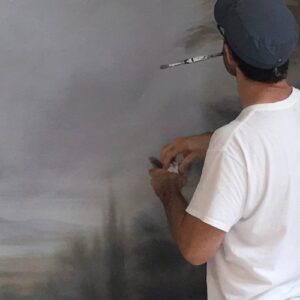 ALAN CARROLL, Creative Director of Atelier EverGreene
With decades of experience as a decorative painter, mural artist, and wallpaper designer, Alan is the liaison between the client and our design team and studio artists. Alan has worked with AD top 100 architects and designers on residential and commercial projects. His work has been published in World of Interiors, Veranda, Architectural Digest, Robb Report, O at Home, House & Garden, Sophisticated Living, Town & Country, Luxe Interiors, Elle Décor, California Homes, and The New York Times.
---