A sure sign that we're heading towards winter is the sun setting earlier each evening. In years past, we've looked forward to hunkering down and staying cozy at home, but this year many of us aren't ready to head back inside after a spring and summer of isolation. As an alternative, let's take advantage of the early nights to spend some time under the stars!
Celestial imagery and the intrigue of stars follow us back to the beginning of history. It's hard to come by someone who hasn't contemplated the night sky. Sacred Spaces of many faiths, along with atmospheric theaters, often have celestial imagery on the ceilings. Beyond an aesthetic choice, these starry skies carry specific religious or historical importance for each faith and serve a unifying purpose.
In Christian churches, starry skies represent the perfect order of heaven. The depiction of stars on the ceilings brings the heavens, the Kingdom of God, closer to the worshipers. EverGreene's work, notably Grace Church in Brooklyn, NY, and St. Augustine in Covington, KY,  are prime examples. 
In Jewish temples and synagogues, starry ceilings do not represent heaven, but rather are reminiscent of the imagery of stars in scripture and the architecture of Moorish Spain during the golden age of Jewish life in Europe (early 8th century – mid 11th century). In the Eldridge Street Synagogue specifically, which EverGreene restored in 2007, the stars also represent the new American status of the many Jewish immigrants. Eldridge Street was the first major Synagogue in New York City, built in 1887.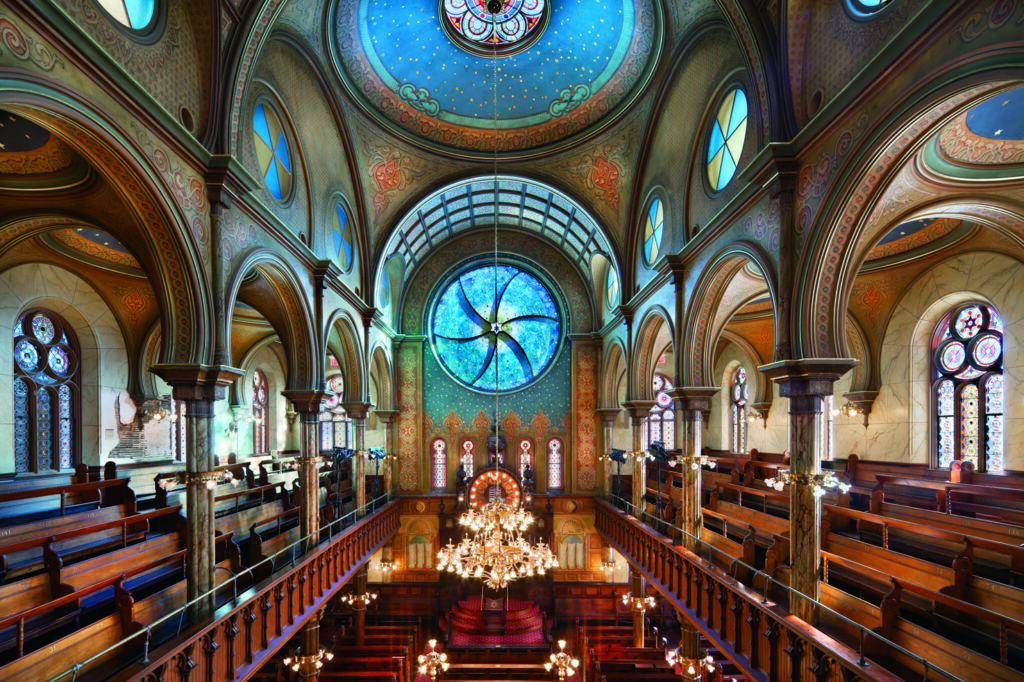 Star-studded ceilings in Mosques represent the order and perfection of God's creations, as in Christian churches. The geometric patterns of Islamic artwork and starry ceilings in Mosques come from a tradition which forbids figurative artwork, but which wants to provide beautiful and meditative space for worshipers. 
Although not religious in nature, atmospheric theatres also make use of star painted ceilings to instill a sense of awe and wonder. The goal of these unique spaces is to transport the audience to a particular time and place and give them a feeling of escape from their everyday lives. The stylizing of the stars in these spaces usually leans towards the realistic to encourage the "willing suspension of disbelief" theaters ask of us. A starry ceiling can also unify an audience. Mimicking the universal experience of sitting under the stars puts audience members in a similar mindset so they're primed for the shared experience of the show. Some beautiful examples our artists have worked on include Saenger Theatre in New Orleans, LA, and Akron Civic Theatre in Akron, OH.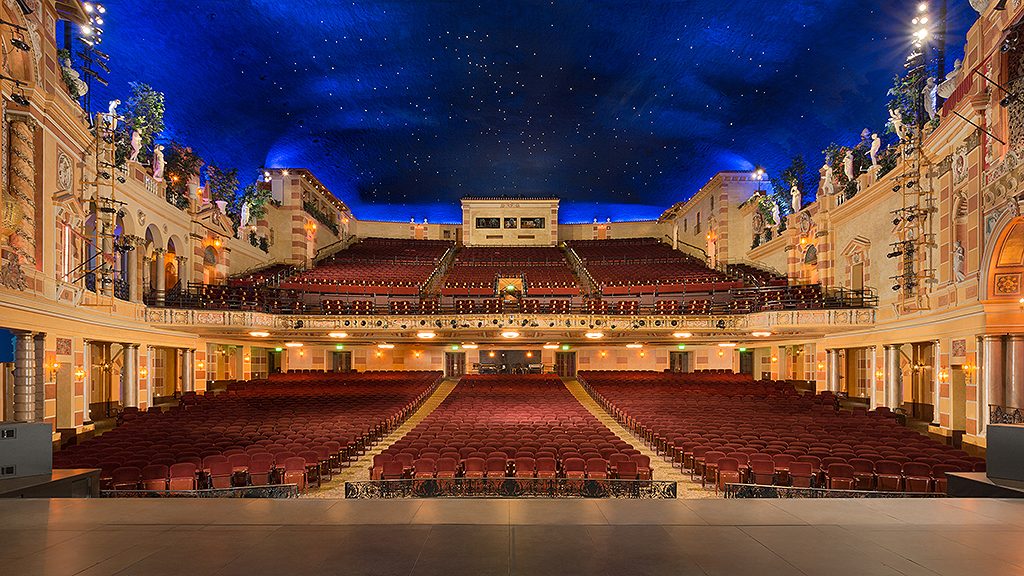 This season, many of us won't be able to physically connect, departing from the norm of spending it with friends and family. Perhaps looking to the sky for some star gazing is just the thing to remind each of us how connected we still are, and have always been.