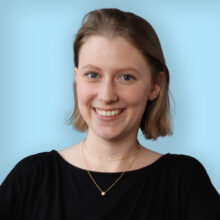 Katharine George
MSHP, AIC-PA
Conservator
1-646-493-1534
Katharine joined EverGreene in the spring of 2019.  She works closely with senior conservators in all aspects of conservation work, including (but not limited to): research, conditions assessments, conservation treatments, construction management, and materials testing and analysis.
Prior to working at EverGreene, Katharine concentrated in architectural conservation  at UPenn, and took advantage of the wide range of courses available, from the petrography of archaeological materials to hands-on work for the National Parks Service. Her master's thesis focused on wooden heritage conservation. While in school, Katharine worked part-time for the architectural conservation firm Building Conservation Associates, Inc. in Philadelphia. Work at BCA included assisting with an HSR, comprehensive condition assessments, cleaning tests, material matching, petrography, and mortar and paint analysis.
Katharine brings additional experience to EverGreene from her former position as an investigation engineer for GB Geotechnics (GBG) in the city of New York. She contributed to several projects focusing on recognized historic structures using various NDE and documentation methods, including photogrammetry, condition assessments, laser scanning, and infrared thermography.
She has been involved in the field of historic preservation and architecture for over a decade, graduating with a MS in Historic Preservation from the University of Pennsylvania. Katharine received the Charles E. Peterson Award for distinguished study in specialized historic building technology. Additionally, she is active an member in several industry organizations including the American Institute of Conservation (AIC) and the Association for Preservation Technology, Northeast Chapter.
Awards
Grand Army of the Republic Rooms Restoration

2023

Palladio Award - Commercial Winner - Craftsmanship

Traditional Building Magazine

Chicago Cultural Center - Grand Army of the Republic Rooms

2023

Best of Design Awards

Modern Luxury - Interiors Chicago

Chicago Cultural Center - Grand Army of the Republic Rooms

2022

Restoration

Landmarks Illinois Richard H. Driehaus Foundation

Chicago Cultural Center - GAR Rooms

2022

Design Excellence Award

AIA Chicago

Trinity Church Wall Street

2022

Lucy G. Moses Preservation Project Award, Trinity Wall Street

New York Landmarks Conservancy

Trinity Church Wall Street

2021

Religious Architecture: Restoration Award

Partners for Sacred Places
MORE AWARDS