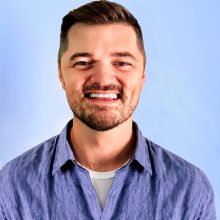 Chad Shores
MSHP
Project Manager
Southeast
1-786-530-4243
Chad joined EverGreene in 2014, shortly after completing his master's degree in Historic Preservation and Conservation at Columbia University. During his tenure with the company, Chad has worked on a variety of projects, ranging from conducting preliminary condition assessments of historic materials, to performing complete conservation treatments of significant historic resources.
He has a working knowledge of treating multiple historic architectural, artistic, industrial artifact materials and enjoys the unique challenges brought with each new project. Chad joined the Florida Association of Public Art Professionals (FAPAP) Board in May 2019 and is currently serving as Treasurer.
Chad holds a BA in History from Lee University, where he graduated Magna Cum Laude.
Awards
National Air & Space Museum Revitalization − Finishes: Painting & Wallcovering

2023

Craftsmanship Star Award for Excellence in the Face of Adversity

Washington Building Congress

National Air & Space Museum - Artifact Move Coordination

2022

Painting & Wallcovering

Washington Building Congress

First National Center

2022

Excellence in Craft

AIA Central Oklahoma

First National Center

2022

Adaptive Reuse

AIA Central Oklahoma

First National Center

2022

Large Commercial Architecture

AIA Central Oklahoma

Drexel University Great Court Ceiling Restoration

2022

Grand Jury Award Winner

Preservation Alliance for Greater Philadelphia

St. Vincent de Paul

2022

Grand Jury Award Winner

Preservation Alliance for Greater Philadelphia

Ringling Museum of Art - Ca'd'Zan

2019

Florida Preservation Awards

Florida Historic Preservation Foundation

Conservation and Relocation of three WPA-era Murals

2017

Thirty-Fifth Annual NYC Design Awards

Public Design Commission of the City of New York

John and Mable Ringling Museum of Art

2007

Private Design Category & Best of 2007 Award

McGraw Hill/Southeast Construction
MORE AWARDS