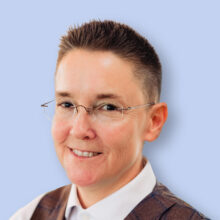 Mary Slater
MSHP, AIC-PA
Senior Conservator
(202) 869-5270
Mary joined EverGreene in 2013 as a professional architectural conservator. She oversees projects from both a management and conservation perspective, working closely with other conservators and conservation technicians in all aspects of conservation treatment, assessment, and documentation. Mary is skilled at performing condition assessments of historic architecture and sites, developing repair and maintenance recommendations and specifications, and writing conservation reports and maintenance manuals. She also conducts historic paint investigations including onsite exposure windows and microscopic analysis.
Prior to joining EverGreene, Mary worked as an architectural conservator for nearly 15 years, first with the National Park Service in New Mexico, and then with a historic architectural firm in California. Her expertise includes the evaluation and treatment of historic lime and earthen plaster, brick, stone, terra cotta, and adobe. Mary has presented at statewide and international conferences on the conservation of historic architecture and archaeological sites.
Mary received her BA from University of Virginia in Charlottesville in English Language and Literature before attending University of Pennsylvania Graduate School of Fine Arts in Philadelphia earning her MS Historic Preservation.  She is active in member in the American Institute of Conservation (AIC) and holds a Professional Associate status.
Pages.
Projects.