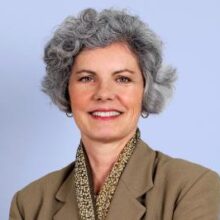 Kim Lovejoy
MA, AIC–PA
Senior Business Development Executive
Northeast
(646) 493-1364
Kim brings over three decades of professional experience in historic preservation and building conservation to her role as Senior Business Development Executive at EverGreene. She joined EverGreene in 1999 as a Marketing Communications Consultant, was appointed Director of Marketing in 2001 to build the department and now leads business development initiatives creating technical and artistic solutions for restoration, conservation, and new design of interior finishes and architectural ornament.
Her experience in technical services with both the New York Landmarks Conservancy and the Massachusetts Historic Commission, and extensive field experience, contribute to Kim's strength at understanding client needs and in developing realistic treatment scopes, budgets and logistics plans. Her focus is working with institutional and commercial clients on large-scale, phased and multi-trade restoration and renewal projects in the Northeast Region.
Kim holds a B.A. in the History of Art and Architecture from Harvard University, an M.A. in Preservation Studies from Boston University, and an M.A. in Conservation Studies from the University of York in England. She is a Professional Associate of the American Institute for the Conservation of Historic and Artistic Works (AIC) and is also the author of many technical articles on maintenance and restoration of historic buildings in Traditional Building, Common Bond, and other publications. Kim was recognized by the Women Builders Council (WBC) as an Outstanding Woman in 2018.
Awards
Grand Central Station - Main Concourse

2023

Elevation Award - Mixed-Use Commercial Category

PaintSquare

Farley Building Redevelopment Phase III

2022

Best Renovation/Restoration & Award of Merit Excellence in Safety

Engineering News-Record New York

Farley Building Redevelopment Phase III

2022

Best Renovation/Restoration

ENR New York

Enoch Pratt Free Library

2022

Community Leader Awards - Rise to the Challenge Recipient

USGBC Maryland

Trinity Church Wall Street

2022

Lucy G. Moses Preservation Project Award, Trinity Wall Street

New York Landmarks Conservancy

James A. Farley Post Office

2022

Lucy G. Moses Preservation Project Award

New York Landmarks Conservancy

Trinity Church Wall Street

2021

Religious Architecture: Restoration Award

Partners for Sacred Places

James A. Farley Post Office

2021

Elevation Awards: Interiors, Commercial + Public Buildings, Judges' Choice

PaintSquare

Enoch Pratt Free Library

2021

Elevation Awards

PaintSquare

Enoch Pratt Free Library

2020

Institutional Architecture Award

American Institute of Architects (AIA) Maryland

Enoch Pratt Free Library

2020

Excellence in Construction - Historic Preservation

Maryland The Daily Record

Enoch Pratt Free Library

2020

Preservation Artisans Award

Preservation Maryland

Enoch Pratt Free Library

2020

Best in Real Estate

Baltimore Business Journal

Manhattan Surrogate's Court

2020

Lucy G. Moses Preservation Award

New York Landmarks Conservancy

Enoch Pratt Free Library

2020

Restoration & Rehabilitation Award

Baltimore Heritage

940 Madison Avenue

2019

AIA Institute Honor Awards for Interior Architecture

American Institute of Architecture (AIA)

Conservation and Relocation of three WPA-era Murals

2017

Thirty-Fifth Annual NYC Design Awards

Public Design Commission of the City of New York

New York Public Library, Rose Reading Room

1999

1999 Restoration Project of the Year

F.W. Dodge New York Construction News

The Plaza Hotel

2008

Best Renovation/Rehabilitation/Restoration Project

McGraw Hill/New York Construction

American Museum of Natural History - Roosevelt Hall Murals

2010

Lucy G. Moses Preservation Award

New York Landmarks Conservancy

Park Avenue Armory

2017

Lucy G. Moses Preservation Award

New York Landmarks Conservancy

New York Public Library, Rose Reading Room

2017

Lucy G. Moses Preservation Award

New York Landmarks Conservancy

Private Club - Dining Room Ceiling

2018

Lucy G. Moses Preservation Award

New York Landmarks Conservancy
MORE AWARDS