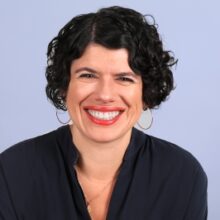 Emily Sottile
Director of the Sacred Space Studio & Business Development Executive
+1 646 493 1325
Drawing on formal training in art history and theology, and over a decade of hands-on experience at EverGreene bringing large-scale restoration and new design projects to fruition, Emily works closely with clergy, architects, committees, and artists to develop artistry and restoration programs that support the liturgy and architecture.
Emily is recognized as an expert in ecclesiastical art and architecture. She lectures on Beauty and the New Evangelization as an adjunct professor at St. Joseph's Seminary (aka Dunwoodie) in Yonkers, NY. Emily has contributed to more than sixty episodes of The Chair documentary series about American Cathedrals, and is a frequent contributor to preservation organization panels, conferences, and publications, including the New York Landmarks Conservancy.
Her passion for ecclesiastical architecture was sparked by an intensive program of study of Medieval and Renaissance art, architecture, and religious studies based in the United Kingdom and continental Europe. Emily holds a BA in History of Art from Rhodes College, Memphis, TN; an MA/MSc in History of Art from the University of Edinburgh, Scotland; and is currently pursuing a MA in Theology, St. Joseph's College in Standish, ME.
Awards
Cathedral Of The Holy Cross

2019

Finalist - Public Space

Society of British & International Design

Cathedral Of The Holy Cross

2019

Winner - Restoration & Renovation

Architecture Masterprize

Cathedral Of The Holy Cross

2019

Religious Architecture - Renovation

AIA, Interfaith Design / Faith & Form

Cathedral Of The Holy Cross

2019

Gold in Interior Design: Religious, Symbolic and Spiritual Buildings / Monuments

International Design Awards (IDA)

Cathedral Of The Holy Cross

2020

Winner- Community & Culture

IIDA New England

Cathedral Of The Holy Cross

2020

Honorable Mention, Best of Design Awards - Institutional Religious

The Architect's Newspaper

Cathedral Of The Holy Cross

2021

Bulfinch Award Winner, Ecclesiastic

Institute of Classical Architecture & Art, New England Chapter

Cathedral Of The Holy Cross

2020

Honor Award- Historic Preservation

SARA NY - Professional Design Awards

Cathedral Of The Holy Cross

2022

Honor Award - Historic Preservation

ARCHITECT Magazine

Cathedral Of The Holy Cross

2022

International Architecture Awards - Winner Restoration & Renovation

The Chicago Athenaeum: Museum of Architecture and Design

Cathedral Of The Holy Cross

2021

American Architecture Awards - Winner - Restoration & Renovation

The Chicago Athenaeum: Museum of Architecture and Design

Cathedral Of The Holy Cross

2022

Finalist – Architecture+ Preservation

Architizer A+ Awards

The Chapel of Our Lady of the Most Holy Trinity

2011

Palladio Award - New Design and Construction

Traditional Building

Our Lady Of The Most Holy Trinity Chapel

2022

Palladio Award - Impact

Traditional Building

St. Vincent de Paul

2022

Grand Jury Award Winner

Preservation Alliance for Greater Philadelphia

St. Augustine Cathedral Renovation

2021

Religious Architecture: Restoration Award

Partners for Sacred Places

Cathedral of the Holy Cross

2020

Preservation Achievement Award & Fan Favorite

Boston Preservation Allliance

Cathedral of the Most Sacred Heart of Jesus

2020

New Design & Construction (less than 30,000 square feet)

Traditional Building Conference

Butler Chapel

2019

Interior Liturgical Design

Faith and Form Magazine, International Awards for Religious Art & Architecture

St. Mary Catholic Church

2019

The Award of Excellence

American Institute of Architects (AIA) Colorado

Seven Dolors Catholic Church

2019

Excellence in Historic Preservation - Interior

The Manhattan / Riley County Preservation Alliance

Cathedral of Christ the Light

2008

Top Overall Project

McGraw Hill/California Construction

Cathedral of Christ the Light

2009

Honor Award

American Institute of Architects

The Church of St. Francis Xavier

2010

Interior Restoration Preservation Award

The Victorian Society of New York
MORE AWARDS