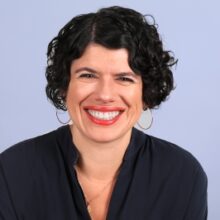 Emily Sottile
Director of the Sacred Space Studio & Business Development Executive
+1 646 493 1325
Drawing on formal training in art history and theology, and over a decade of hands on experience at EverGreene bringing large scale restoration and new design projects to fruition, Emily helps design teams establish well informed scopes of work, budgets, schedules, and implementation plans. Emily works closely with clergy, architects, and committees to develop artistry and restoration programs that support the liturgy and architecture. 
As an adjunct professor at St. Joseph's Seminary / Dunwoodie in Yonkers, NY, Emily lectures on Beauty and the New Evangelization. Her passion for ecclesiastical architecture was sparked by an intensive program of study of Medieval and Renaissance art, architecture, and religious studies.
Emily holds a BA in History of Art from Rhodes College, Memphis, TN; an MA/MSc in History of Art from the University of Edinburgh, Scotland; and is currently pursuing a MA in Theology, St. Joseph's College; Standish ME. 
Emily is a member of the New York Landmarks Conservancy, Conference for Catholic Facility Management, Partners for Sacred Places, and Pax Christi Downtown Brooklyn.