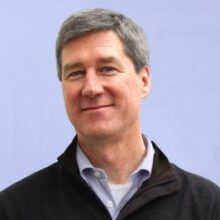 Terry Vanderwell
Senior Business Development Executive
Midwest
+1 708 247 1792
Terry Vanderwell has been with EverGreene for over thirty years, joining the New York headquarters in 1984 before moving to Chicago in 1997 to establish our Midwest office. As a Senior Business Development Executive, Terry oversees the procurement and development of Midwest projects and manages client relationships throughout the project life cycle.
While also serving as a Project Manager for EverGreene during his tenure, Terry has managed hundreds of projects – many large large and multi-phased – including work on numerous state capitols and historic theaters. As a result he has extensive fieldwork experience, in projects involving plaster restoration, decorative painting, specialty finishes and both mural creation and conservation. Because of this historic preservation and restoration know-how, coupled with his artistic talents, Terry is often called on by perspective clients prior to construction starting to help develop their scopes of work, determine budgets and scheduling, and advise on the coordination of complex projects.
A native of Iowa, he earned his B.F.A. from Grandview College in Des Moines.
Awards
Grand Army of the Republic Rooms Restoration

2023

Palladio Award - Commercial Winner - Craftsmanship

Traditional Building Magazine

Chicago Cultural Center - Grand Army of the Republic Rooms

2023

Best of Design Awards

Modern Luxury - Interiors Chicago

Mississippi County Courthouse

2022

Outstanding New Construction in a Historic Setting

Preserve Arkansas

First National Center

2022

Excellence in Craft

AIA Central Oklahoma

First National Center

2022

Adaptive Reuse

AIA Central Oklahoma

First National Center

2022

Large Commercial Architecture

AIA Central Oklahoma

Chicago Cultural Center - Grand Army of the Republic Rooms

2022

Restoration

Landmarks Illinois Richard H. Driehaus Foundation

Chicago Cultural Center - GAR Rooms

2022

Design Excellence Award

AIA Chicago

Great Overland Train Station

2005

Award for Historical Restoration/Preservation Project in the $2-10 million category

Kansas Chapter - American Public Works Association

Great Overland Train Station

2005

Judges Choice Award & Overall Project of the Year

Kansas Preservation Alliance

Great Overland Train Station

2005

2005 Award of Excellence

Associated General Contractors Kansas Chapter

Chicago Union Station

2021

Preservation Award for Restoration

Landmarks Illinois Richard H. Driehaus Foundation

Wyoming State Capitol

2020

Reconstruction Awards - Gold

Building Design+Construction Magazine

Unity Temple

2019

Richard H. Driehaus Foundation National Preservation Award

The National Trust for Historic Preservation

Cincinnati Music Hall Revitalization

2019

Large: Honor Award

American Institute of Architects (AIA) Pittsburgh

Auditorium Theatre

2019

Outstanding Historic Theatre Award

League of Historic American Theatres

Missouri Botanical Garden

2019

JLT Build America Award

Associated General Contractors of America

Akron Civic Theatre

2003

Honorable Mention–Commercial Interior

Painting & Decorating Contractors of America Picture It Painted Professionally Award

Auditorium Theatre

2002

Chicago Landmark Award for Preservation Excellence

City of Chicago, Office of the Mayor

360 N. Michigan Avenue Building

2002

Richard H. Driehaus Foundation Preservation Award – Rehabilitation/Restoration

Landmarks Preservation Council of Illinois

Auditorium Theatre

2003

Landmarks Preservation Council of Illinois

Driehaus Foundation

Akron Civic Theatre

2003

Picture It Painted Professionally Award - First Place, Commercial Interior Type III

Painting & Decorating Contractors of America

Akron Civic Theatre

2004

Craftsmanship Award for Decorative & Ornamental Painting

Builders Exchange

Cincinnati Music Hall

2017

Preservation Merit Award

State Historic Preservation Office - Ohio History Connection

Cincinnati Music Hall

2018

Historic Theater of the Year Award

Heritage Ohio

Cincinnati Music Hall

2018

ABC Award

Associated Builders and Contractors, Ohio Valley Chapter

Unity Temple By Frank Lloyd Wright, Oak Park, IL

2018

Special Award of Restoration Excellence

Docomomo US Modernism in America

National World War I Museum and Memorial

2003

Allied Arts & Craftsmanship Award - Mural Conservation & Plasterwork

American Institute of Architects (AIA) Kansas City
MORE AWARDS