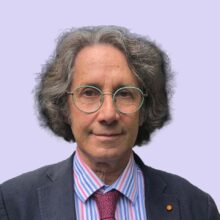 Mark Rabinowitz
AIC-Fellow | FAAR | FAPT
Principal Conservator
(301) 943-8249
Mark holds decades of experience in the assessment, testing and treatment of major historic and artistic works in the US, Canada and the Caribbean. First trained as a sculptor, he has worked on preservation of monuments, sculptures, historic structures, fountains, industrial artifacts, historic sites and collections.
Significant projects include assessments of the Carnegie Library, Washington, DC, assessment the Atlantis Space Shuttle and A-12 CIA spy plane, the assessment of the Egyptian Obelisk in New York City, treatments of bronze and marble at the US Capitol US, Dept of Commerce and US Supreme Court buildings, treatments of iron and aluminum at the US Dept. of Justice building, treatment of stone of the West Block of the Canadian Houses of Parliament., assessments and treatments of the Grant, Lincoln, and WWI Memorials on the National Mall, conservation of monuments in Arlington and other National Cemeteries around the country, restoration of major elements of Louis Comfort Tiffany's Laurelton Hall, conservation of works for the Brooklyn, Metropolitan Museums in NYC the Smithsonian Institute and National Gallery of Art in Washington, DC, Crystal Bridges Museum, Morse Museum, the Biltmore Estate, Rockefeller's Kykuit, Doris Duke's Rough Point, Vizcaya Museum & Gardens and hundreds of other Federal, State and Local sites throughout North America.
Mark is a graduate of Rhode Island School of Design in Providence, RI. He holds a Bachelor of Fine Arts, Sculpture and worked as a sculptor for the first sixteen years of his career. Mark is a Fellow of the American Institute for Conservation (AIC), Fellow of the American Academy in Rome (FAAR), and was inducted into the College of Fellows for the Association of Preservation Technology International (FAPT) in 2021. Mark was named Interim Director of Historic Preservation and Christovich Visiting Professor of Historic Preservation at TuSA in August 2023.
Pages.
Projects.